A few days before Christmas we got a tiny bit of snow: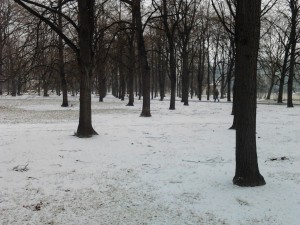 It wasn't quite enough to cover the grass completely, and it melted very quickly. I had expected the winters here to be far colder, because Poland is on the same latitude as Canada. It's been a pretty mild winter so far.
I was at a supermarket getting some last minute things before Christmas. I saw several different kinds of piernik in huge quantities sitting by the bakery. This was something that wasn't normally there, so I rightly guessed that it must be a Polish christmas tradition. I picked one up and brought it home.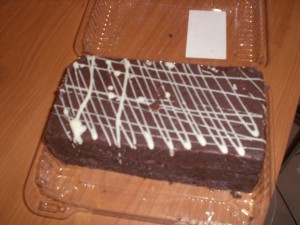 I then got out a dictionary and figured out that piernik means gingerbread. I was so disappointed; I've never liked American gingerbread, and now I had a brick of gingerbread. I tried it with very low expectations. I was pleasantly surprised to find that it was delicious! It was a much moister gingerbread than I am used to, and the ginger was strong enough to be a nice accent without overpowering it. At least in my view the Poles make far better gingerbread than Americans.
We had a young men's activity at the Armstrong's during the week before Christmas. The highlight of the event was Dominik Lyzwinski receiving his mission call.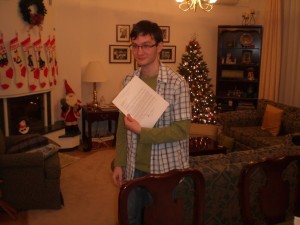 Dominik will be serving as a missionary for our church for two years in the Tacoma Washington Mission in the Northwestern United States. Lucky for him he is already fluent in English. It was exciting to find out where he is going. He leaves in May.
Christmas Eve we hosted a brunch for the Fulbrighters that were still here in Warsaw during the Christmas season. We got to meet Dara Weinberg's brother and his girlfriend while they were in town visiting her, and our friend Nathan Wood and his family were also able to join us.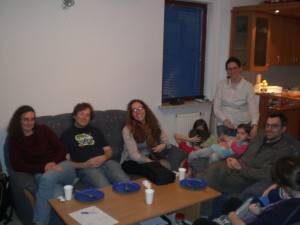 It was great to get together. Paul certainly had a ball playing with Nathan's kids. He doesn't get to play with other children that frequently so this was quite exciting for him.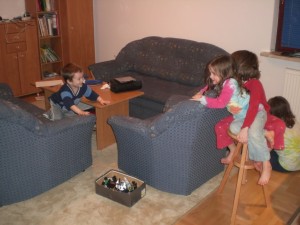 That evening we were invited to a shepherd's dinner with the Armstrongs and the Picketts.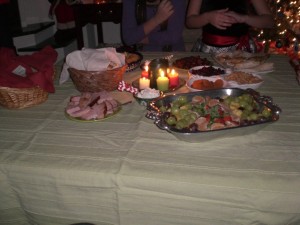 The shepherd's dinner is a family tradition for the Armstrongs (who are attached to the embassy here). It means lots of finger food by candle light, reading the Christmas story and then having the kids do a nativity. It was a very enjoyable evening and made it a lot easier to be so far from home during Christmas. We are so glad to have such good people as friends here in Poland. I think we will adopt this tradition for our own family.
Here are some of the Armstrongs: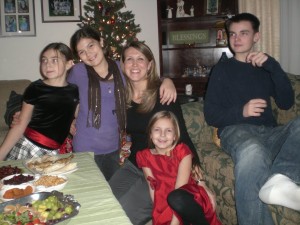 And here are the Picketts: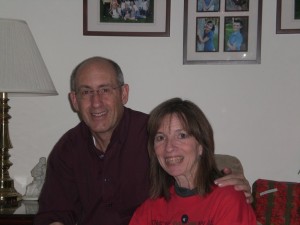 Brother Pickett is here helping develop Poland's shale gas resources.
Paul had a blast playing with the Armstrong kids: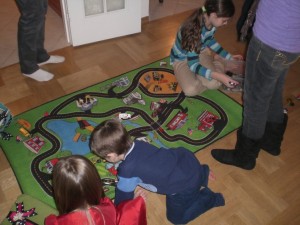 He was very sad when it was time to go home.
Christmas morning finally came.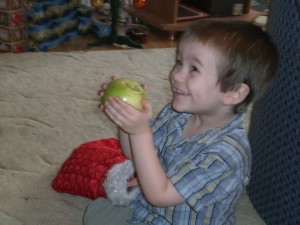 Paul was very excited to find Santa had put an apple in his stocking.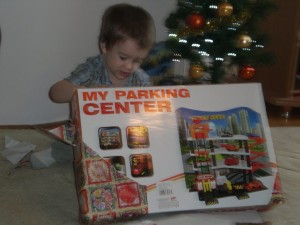 Paul has always loved his matchbox cars, which are always scattered around the apartment. Now he has a place to park some of them.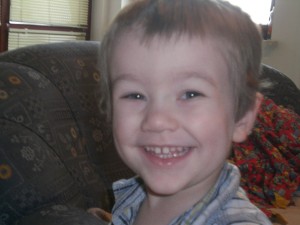 I think Paul enjoyed his Christmas.
We spent New Year's Eve with some of our D&D friends. It was a very pleasant evening, with great food and great company. I met a man from South Africa. All we are missing is someone from Asia and we have the whole globe covered!
I've been spending the short Christmas break trying to catch up a little on school and get some chill time before school starts back up again tomorrow. At my university the semester doesn't end until the end of January, so there's still a lot left to do. I miss having the semester over before the holidays. Finals will be coming right around the same time my second son is supposed to be born, so things are going to be a little hectic for a while. Hopefully Annika won't go into labor during an exam!