This week has been all about getting settled in Warsaw before school starts. Lots of little details to work out, like getting a polish bank account so we can pay our bills (in Poland pretty much all your bills get paid by bank transfer, not by check). I've also been called as a youth leader at the local branch of my church, and I am in the process of trying to start a scouting program here for the American boys in our congregation so they can stay active in Scouting while they are in Poland. Their fathers work at the US embassy here in Warsaw.
Friday I had my orientation at the University of Warsaw main campus. There are about 700 international students from all over the world here. As the orientation let out, I could hear dozens of languages being spoken all around me. I really enjoyed the orientation program and I am excited for classes to start tomorrow.
All the stuff we had shipped out from the United States back in August finally arrived on Friday. It felt like Christmas opening the packages and finally having all 200 pounds of the stuff we couldn't take on the plane with us. Finally we have all our books, winter clothes and many other odds and ends. Paul was very happy because he finally got his car mat to drive his cars around on!

This weekend is a very exciting time for members of my church (The Church of Jesus Christ of Latter-day Saints). Twice a year, in April and October, we have a worldwide meeting called General Conference where we get to hear the leaders of our church (who we believe are modern-day prophets and apostles who receive revelation from God) speak to us from Church headquarters in Salt Lake City, Utah in the United States. Millions of people around the world participate by satellite or internet transmission in addition to the thousands of people personally attending the meeting. I attended part of the conference this morning at the one and only LDS chapel in Poland, located in Northern Warsaw: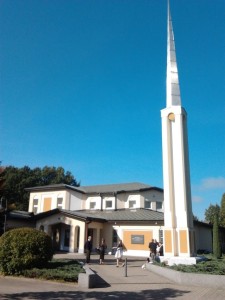 It is an amazing and wonderful thing to be able to fully participate in Conference even from the other side of the world. I have learned a lot and I appreciate the guidance that comes from listening to sermons of modern apostles.