So it's been a month since I've posted anything here. I've been bad at keeping up; between the new baby, school, and going to Belgium and Luxembourg I've gotten a little behind. I'm not going to attempt to catch up all at once; that would just delay my posting further. This post is intended to cover up to February 29th, when I left for Belgium. I will write about my experiences visiting EU and NATO institutions in Belgium and Luxembourg over the next few weeks.
First, some talk of the weather. February was the coldest month so far in Poland since my arrival. Overall it had been a very mild winter thus far, and I had been whining about not getting enough snow, etc. Then it got really cold. Cold enough that quite a few people died across Eastern Europe. I was very glad I had a warm place to sleep.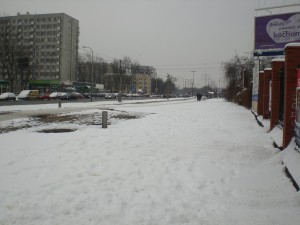 And here is an example of political speech opportunities only available in winter: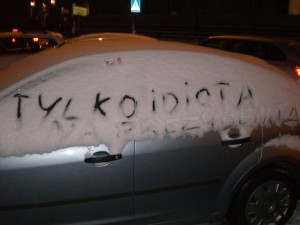 It says: Tylko idiota na prezydenta (Only an idiot for president).
This was my first time experiencing any real severe cold weather. I made a late run to Tesco to pick up a few things during the worst of it. I was under the mistaken impression that the metro ran later than it did, so to get home I had to take one of the night buses, which meant a longer walk. Having the mucus in your nose freeze and your tears forming icicles on your eyelashes is quite a strange experience for a man who grew up in sunny Southern California and served a mission in the tropics.
We recently had an activity for the youth of our church. We got to enjoy a nice selection of indoor climbing walls. Here's me at the top: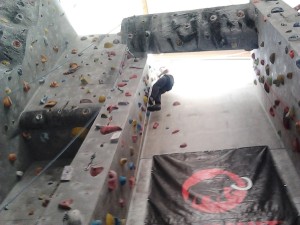 Something I love about my faith is our emphasis on service. Last month I went out with some of the other men from my church to help insulate a home from the cold just outside of Warsaw proper.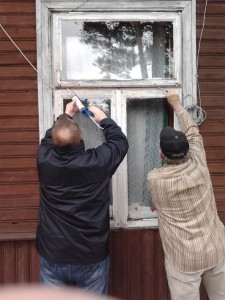 We fixed a broken window and sealed the others so it would hold heat better. It's a very satisfying feeling to be able to help someone in need. Oddly enough, our group included an economist, a composer, an international relations student and a contractor. I guess at least one of us knew what we were doing. The neighborhood was an amazing contrast- we were only half an hour out of the city center by train but the area looked and felt like a totally different place. I need to make time to see more outside the capital.
Paul always likes to have his picture taken, so here's a random shot of him: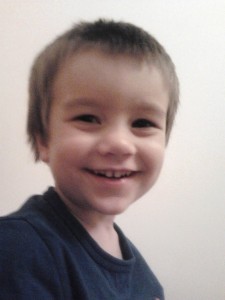 I got to go to the orientation for the new Fulbrighters arriving this semester. It was nice to welcome the newcomers. After the meeting we had a very nice lunch at La Bodega on Nowy Świat near the Fulbright Commission.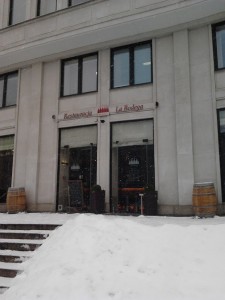 The really funny thing is, this restaurant is in the bottom floor of what used to be the headquarters of the Communist Party of Poland: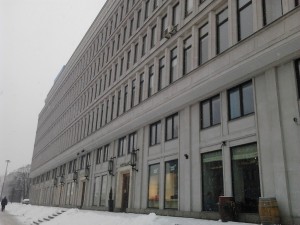 Which brings me to a classic Polish joke. The Party headquarters were on ulica Nowy Świat (New World Street). So the Poles would say, "If you turn your back on the Party, you can see the New World!"
My study of Polish is moving right along. I was recently invited to skip ahead to the next level at Polonicum from second semester A1 to second semester A2. It's made the classes a lot more challenging but I'm learning a lot more.
I got a nasty cold the weekend right before I left for Belgium, but I was very lucky in that it had mostly passed by the time I actually left. If I had been still sick it would have been a lot more difficult to enjoy that marvelous week. More on that to come!